Metal-on-Metal Hip Replacement Lawsuit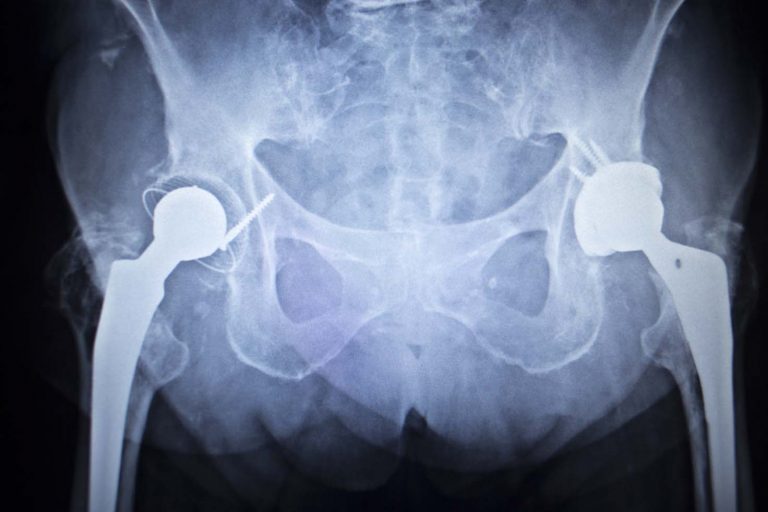 On This Page
Lawsuit Overview
It is estimated that over 500,000 people received metal-on-metal hip implants over the last 10 years in the U.S. alone. The dangers associated with these devices—which fail at an alarming rate—are well documented.
The metal-on-metal movement inside the human body can cause the release of tiny metal particles. This can damage the surrounding soft tissue and bone. It may even enter the bloodstream causing other systemic health issues. Failure often requires revision surgery to remove or replace the implant.
In an effort to make the public aware of the dangers of metal-on-metal hip implants, the FDA launched the Metal-on-Metal Hip Implants webpage. This webpage provides information about potential risks of metal-on-metal hip implants to:
Patients
Orthopedic surgeons
Health care providers
Regulators in the United Kingdom, Canada, and Australia have also issued safety warnings about the devices.
Failure Rate and Metal-on-Metal Hip Litigation
The sky-high failure rates of metal-on-metal hip implants are evidenced by the number of revision surgeries and thousands of lawsuits brought by injured plaintiffs. There are two types of metal-on-metal hip implants:
Traditional total hip replacement systems
Resurfacing hip systems
According to an investigative report in the esteemed British Medical Journal, average failure rates at seven years were 11.8% for resurfacing hip systems and 13.6% for total hip replacement systems (with some variance among brands), as compared to rates of 3.3%-4.9% for hip implants made from other materials. The FDA received more than 12,000 complaints in 2011 alone relating to these devices.
Despite being touted by their manufacturers as a medical breakthrough in safety and functionality, the British Medical Journal investigative report noted above found metal-on-metal hip implants do not appear to be more effective or durable. In fact, these hip implants seem to pose more risks than older implants made with different materials:
"Despite the fact that these risks have been known and well documented for decades, patients have been kept in the dark about their participation in what has effectively been a large uncontrolled experiment."
Which Hip Replacement Systems Are Affected by the Problem?
Many of the affected hip replacement systems include:
M2a Magnum – Biomet
Stanmore – Biomet
Exceed ABT – Biomet
ASR XL Acetabular System – DePuy Orthopaedics
ASR Hip Resurfacing System – DePuy Orthopaedics
Birmingham Hip Resurfacing (BHR) – Smith & Nephew
R3 Acetabular System – Smith & Nephew
ABG II Modular Hip System – Stryker
LFIT V40 – Stryker
Rejuvenate – Stryker
Conserve Plus – Wright Medical Technology
Durom Cup – Zimmer Holdings
Some of these products have been voluntarily recalled. Others remain on the market despite the FDA's safety alerts and widespread failure and resulting injuries. Some manufacturers have already paid millions, even billions, to settle thousands of claims by plaintiffs.
$1 Billion Verdict Announced in Pinnacle Hip Implant Litigation
A Texas jury has awarded $1.041 billion to six plaintiffs injured by Johnson & Johnson's DePuy Pinnacle hip implants. The plaintiffs in this third bellwether trial of the Pinnacle hip litigation received the defective metal-on-metal implant and subsequently experienced complications including tissue death, bone erosion and other injuries.
Are You Experiencing Hip Replacement Problems?
If you have experienced complications after the insertion of a metal-on-metal hip implant, including having had or planning to have revision surgery to remove or replace the device, you may be legally entitled to compensation for medical costs, loss of income, and other damages.
Request a Free Case Evaluation for Your Potential Claim
Grant & Eisenhofer P.A. is investigating the safety risks of metal-on-metal hip implants and is monitoring ongoing developments of hip replacement litigation. If you or a loved one has experienced complications after receiving a metal-on-metal hip implant, please contact us. Call our firm at (877) 790-3588 or submit an online form for a confidential evaluation of your potential claim.